---
The Warehouse Yard Management Best Practice to Increase Visibility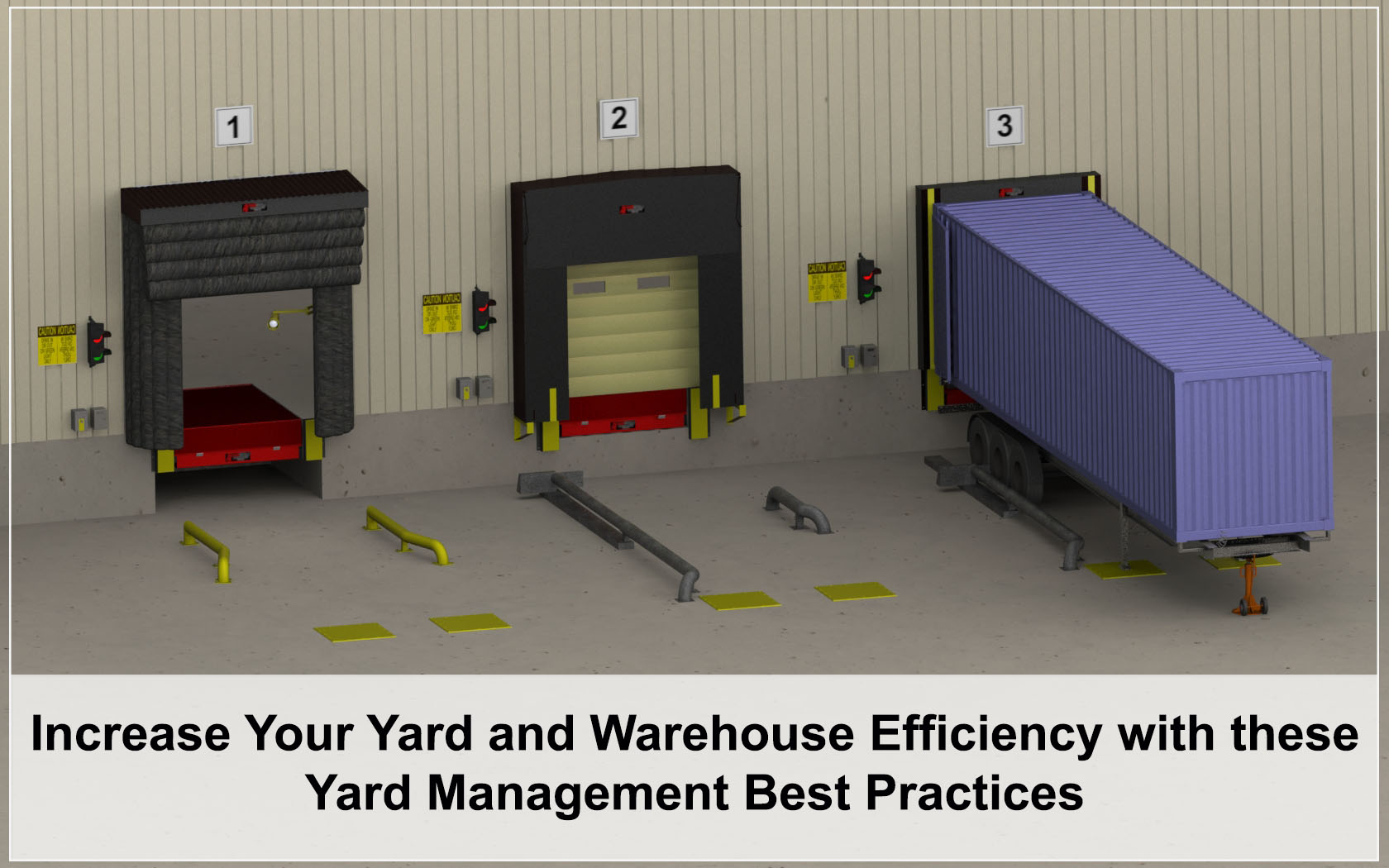 This is a best practice that will be very useful if you have a lot of trucks, trailers, and containers coming into your facility. This is called yard management, so basically this is a small system within the WMS with which you can track your truck's trailers and containers. You can create yard locations and of course you can create dock doors and you can track them exactly. But it's all about visibility right, I mean I want to know where my product is, I want to know where my trailer is, I want to know in what area of the yard that these trailers are sitting so that I can track them better. I can have visibility to where it is and what is inside the trailer shipment and all that. 
In order to make this work really well, you will have to have a shipment. The multiple steps that are typically done in a yard management system is there is a driver that's bringing the product in a shipment and he will call ahead to drop them off and to get an appointment. So there have been an appointment scheduled against that ASN shipment that's being brought by this driver and then once the appointment is scheduled the driver shows up at that time or a little early. He shows up and then there is a guard which is the entry point into the yard area. 
The guard does the dock check-in and this is all systematically done in the system. Because if you write it on paper nobody knows what happens to the paper. If there is a dock door available then the dock door is assigned. When the driver shows up the guard checks in against that shipment and then if a dock door is available he gets sent to the dock door right away or if the dock door is not available let's say all the dock doors are full then he gets sent to the yard location. So yard locations are extra locations at which when the dock door is not available you still want to keep the trailer at a place closest to the dock door and also you want to have some visibility. 
You can find where the trailer or container or truck whatever it is sitting and also there are yard jockeys that can haul these containers from the yard location to the dock door and then finish unloading. They can haul the trailer back from the dock door to the yard location. So all these are trackable and once the guard check-in is complete then if the dock door is open the driver gets sent to the dock door if not he gets put in the yard location and he stays there, and then as soon as the dock door gets available an alert message is sent to the driver about the dock door availability and this is where you have to go. The driver takes it and puts the container truck there and then the receiving people unloads the product. 
Once receiving is complete then they inform the driver and the driver comes back to your location or he goes away so when he goes back there is an exit point and there he does a guard checkout. The guard checkout process is tracked on the system so that you can see the trailer, the yard location, the dock door where the product was unloaded and then you can see what time he left. Incase of any problem later like if the driver didn't show up for whatever reason on time or something happens you can you can track all this and you can give the feedback to the transportation service provider. Well so you can do all this and there are even systems that are available where in you can keep track of all your trucks, trailers, and containers. This is a lot in and this is a challenge in the food distribution centers and we had customers where they're have hundred acres or hectares or something like that so big and there are a lot of containers sitting there and often the DC managers do not know what is happening. 
Especially think about if you don't have space for a product that you want to you need it because let's say it's a fast-moving product. At this time they decided strategically to just leave it as this is what happens a lot in the peak season they just keep the product in a trailer and then they keep it closer to the dock door and then as soon as you get you can pull that trailer and move it to reserve or replenish to your locations and fulfill your orders. All these things can be managed very effectively with the yard management system, and that's why the yard-management system is very helpful. Also I think advanced techniques where you can even RFID the trailers and when the trailers move you're able to see the real-time status of where the trailer is in you system, I mean you can still scan the location and then all that but in an RFID scenario especially if it's a very cold weather if a person is not able to work outside because of a very cold weather then RFID helps because everything is done automatically instead of someone sitting outside.
Please share your comments in the section below and of course take a look at several other best practices that we have added to our YouTube channel and would love to help you.
Originally published at Smartgladiator.com on September 17, 2019.